Certain reforms in the CTP Green Slip Scheme were introduced by the NSW Government in December 2017. According to this reform, motorists were eligible to get refunds ranging from $10 – $120. The aim was to reduce fraudulent claims, provide better support for accidental cases and to resolve issues quickly.
Sydney Car Wreckers offer the following information on Green slip refunds:
Need for the reform –
The previous CTP Green Slip Scheme was not serving the policyholders and injured road users as it was 18 years old and had become outdated.
The Green Slip Scheme has become more affordable after their prices were reduced.
Eligibility –
Eligible-
Registered owners till 30 November 2017
New owner can get a refund if the Cars are bought and registered immediately before 30 November 2017 and transfer documents are lodged before 1 December 2017
The old owner can get a refund if the transfer documents are not submitted before 1 December 2017
Not Eligible-
If the refund amount is lower than $10 before or after the application of a small administration fee
If the reforms do not affect the individual's green slip prices
Procedure to claim the refund –
Anytime on Sundays
Contact Service NSW CTP refund personnel from 7 am to 7 pm, Monday – Friday
Visit Service NSW service centre to make a claim in person
Refunds can take up to 10 days to be processed
Individuals need to provide their bank account details and BSB number while making the claim
Cheques and Electronic fund transfers are used to make the refund
Deadline –
The last date for registering requests for a green slip refund is on 30 September 2018. Cheques for a refund should also be deposited by this date. The unclaimed refunds will go towards providing benefits for those who meet with accidents on NSW roads.
Benefits of the new CTP Green Slip Scheme –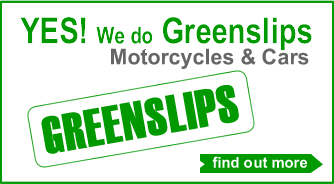 Better savings under the new green slip scheme.
People with injury on roads can avail of better benefits under the new plan
A higher ratio of CTP collection goes towards helping the people injured on the NSW roads
Easy and convenient ways to process claims quickly and help people in need
Reduces chances of fraudulent or exaggerated claims
The scheme encourages resolution of price regulation differences among taxis, shared cars and hired cars
How the programme is affecting Motorcycle prices?
Prices of all types of vehicle have been reduced owing to this scheme. However, the green slip prices have not been lowered for motorcycles. There is a no-fault period of 6 months. Within this time if the motorist meets with an accident or even if the individual is at fault, they receive better coverage and benefits. Thus the Green Slip Scheme directly affects the prices of motorcycles.