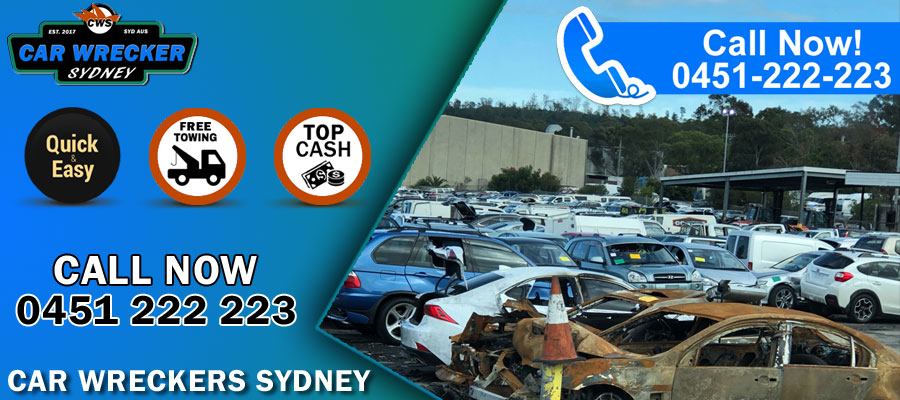 Why Sell Your Car To Car Wreckers?
You know it is time to give up on a car when it needs frequent repairs. The repair costs can get heavy on pockets. Moreover, prevention is always better than cure. Replacing the car at the right time can save you from minor or major accidents.
Most of us dump our junk cars in the garage or out in the open. However, we do not realize the intensity of harm it causes to the surroundings. Junk vehicles can degrade the environment to a great level. These vehicles emit fuels and various gases that can be dangerous for the environment. They might also pollute the soil and water around. Therefore, getting rid of these vehicles is the best solution. Selling a vehicle to Sydney car wreckers is the easiest way to do so.
Why Car Wreckers Sydney?
If you're wondering how we are the best option, we'll break that down for you. People are usually well aware of several methods of selling a used car. While personally selling a car, one has to make an investment of both time and money. You have to get some minor repairs and a car wash before selling it to any party. Moreover, one also has to bear the advertisement expenses. The chances of finding a potential buyer increase with an advertisement. Similarly, car dealers charge their own commission. You might stay at a loss by making these expenses and compromises. Junkyards, scrapyards, and dismantlers are also great options. However, choosing the right ones is key.
Our car wrecking company offer the best cash to customers. We buy any and every kind of junk vehicle. No matter in which condition, we'll happily offer cash for it. It can be new, junk, old, accidental or a complete wreck. Besides that, the vehicle can be of any brand, make or model. We give competitive and fair prices for all cars and other scrap vehicles. Moreover, you get to sell a junk vehicle and make instant money in less than a day!
Don't wait if you're looking to sell your good condition car in Sydney, our partner will help you to deal with as competitive prices.
How To Sell A Car For Cash?
Selling a junk vehicle to us is super convenient. Our team of experienced workers is always at your service. We cater to all your requirements and put our best efforts. We assure a great customer experience to everybody who chooses to take our services. If you want to sell a scrap car instantly, mentioned below is the procedure for it. Visit a section of quick sell to unwanted vehicles Sydney where we take only 30 minutes to get you quotes.
CONTACT US

It doesn't take a lot of time to make a simple call. All you have to do is call us and give details of the vehicle. We give a free quote considering the brand, condition, make and model of the car. Make sure to give the correct information. A precise description will help us to give a higher quote. One can also complete this procedure online by filling a form. Our team reverts in less than a few hours. We are available for you 7 days a week. For any queries or a free quote, give us a call right away!

FREE CAR REMOVAL

As soon as you accept our offer, the towing team ring your doorbell within the next 24 hours. It usually takes us less than a day to tow a car away. You get a free same-day car pickup. Our Sydney car wreckers tow the vehicle away without causing any trouble or inconvenience. Besides that, it happens for free. All you need to do is sit back and watch it happen. We serve you at the best of our abilities.

CASH ON THE SPOT

Yes, you get instant cash on the spot! Once the car wreckers tow the vehicle away, they pay you in cash instantly. We guarantee instant money and make sure to deliver it. Moreover, one does not have to pay anything for the services that we provide. You get to sell an unwanted car for instant cash in less than a day. We assure you the best customer experience. Therefore, call us today for a free quote and best services.
Why Choose Sydney Car Wrecker?
We do not only offer the best money for junk cars. We also make sure that our services are of top quality. Our company has been in business for several years. Hence we realize the worth of your car and offer the best. In addition to great deals, we provide our customers with great services. Our instant cash delivery and same day car removal services are free. We do not charge a penny for all the services. In fact, we also look after the legal requirement. Our team manages the paperwork beforehand. Therefore, all you need to do is make a call and leave the rest on us!
We Also Offer Quick Pickup For-
Buy Used Auto Parts
We buy used cars of various brands, makes, and models. Some of these cars are in great condition and hence are resold. However, most of the cars are too terrible to be taken on roads. We recycle the auto parts from such cars. The recycling process happens in an eco-friendly manner. With the help of latest technology and innovative methodology, we prepare the used car parts for a resale.
These used auto parts are great in quality. They also come with a warranty. Used or remanufactured car parts are way less expensive than new vehicle parts. If you are not willing to sell a car, get the damaged car parts replaced. For longer use, remanufactured automobile parts are a great option. They are amazing in quality and come at affordable prices. However, if you're planning to not use the car as much, used auto parts are the best. They are way cheaper in price and are also good in quality.
If you want to buy used auto parts or sell a junk car, give us a ring today! Get instant money and free services. Sell an unwanted vehicle for a handsome amount of cash.