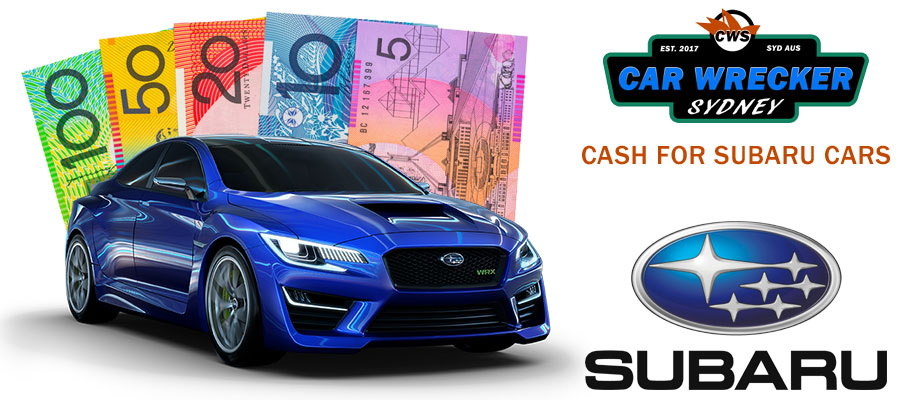 Cash for Subaru Cars Wreckers
Subaru is a widely popular brand and owned by many people in Sydney. However, selling a junk Subaru car can be difficult. We often dump our junk vehicles in the garage or leave them out in the open. Since these junk vehicles can be extremely toxic to the environment, getting rid of them is important. Selling a junk car is not a big deal. In fact, there are a number of ways by which people can get rid of their junk cars. However, choosing the right method can be a little tricky.
Personally selling a junk car can be a little expensive. One does not only have to bear the expenses of advertisements. Before selling a junk car to someone, minor fixes and washes are necessary. Moreover, the search and bargaining can also leave you drained.
Subaru Cars Wreckers
Our cash for cars Sydney services makes selling of junk vehicles super convenient. We bring to you the best cash offers for junk cars. Our services make the selling process effortless and quick. We have an efficient team of wreckers which takes care of every requirement. Moreover, you do not have to spend a penny. We do it all for free!
If you want to sell a Subaru car, we're right here at your service. We provide you the easiest way to sell junk vehicles. The vehicle can be old, new, accidental, wrecked or even burnt! We buy any and every kind of junk vehicle. All you need to do is call us and we take care of the rest. Our car removal company is a reputed one in Sydney. Therefore we never fail to provide the best customer experience.
Listed below are Mazda car models that we happily accept:
Subaru Forester
Subaru Impreza
Subaru Liberty
Subaru Outback
Subaru Tribeca
Subaru WRX
Subaru XV
Subaru Brumby
Subaru BRZ
Subaru L series
Subaru Legacy
Subaru Leone
Subaru Levorg
Subaru Sherpa
Subaru SVX
Subaru XT Vortex
We realize the worth of your car and offer the most competitive prices. Besides offering top cash, we also provide great services. In addition to the amazing cash offers, we also give free car removal services. Our helplines are available 7 days a week.
If you want to sell a Subaru car, here is what you need to do.
Give us a call and provide all the information about the vehicle. To get a higher quote, make sure you provide correct information. We offer a quote considering the brand, make, year, model and other features of the car. However, we only offer the best amount for any junk vehicle.
Sell Your Subaru Cars
If you accept our offer, our car wreckers reach out to you within the same day. All this happens in no time! You also get a free same-day car removal service. Our team makes sure the selling process is absolutely chaos free. Since we promise you the best customer experience, all our services cost no penny at all. In fact, we also arrange the paperwork beforehand. Instead of shelling out money, sell a junk car without any expenses.
Above all, you get instant cash on the spot. Right after we tow the vehicle, our team pays you in cash on the spot. Therefore, you do not have to wait for the clearance of bills. Hence we make it quick and convenient!
The junk cars we buy are used for reselling or recycling. The recycling happens in an eco-friendly manner. With the help of latest technology, the used auto parts are remanufactured for further sales. These used or recycled auto parts are also great in quality. In addition to the quality, they also come with a warranty. If you do not want to give up on the car yet, purchase used auto parts at great and