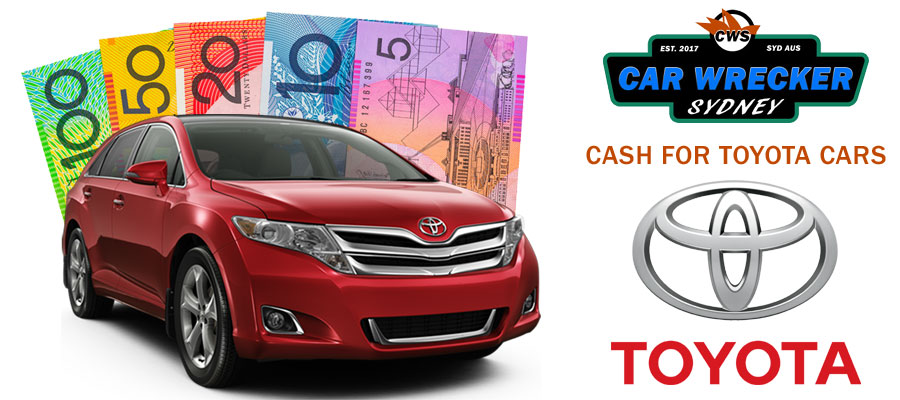 Toyota Wreckers Sydney & Cash For Toyota Cars
Toyota being a good quality brand is widely popular. One can always spot a Toyota car in Sydney. Moreover, this brand is very famous among students as well. However, getting rid of a branded car can be tricky. Abandoning a car in the garage or out in the open is not a great idea. These junk cars can be extremely dangerous for the environment. Besides that, they also take up unnecessary space in your garage.
If you own a Toyota car and want to sell it away, we have the best option for you. One can personally sell a car or hire a dealer. However, the selling expense may be higher than expected. While these traditional methods of selling a junk vehicle cost a little, we do it for free!
Toyota Car Wreckers – Toyota Parts Sydney
We offer the best prices for junk vehicles. If you own a Toyota vehicle that is not even in an operational state, we will be happy to buy it. Our company accepts all kinds of burnt, wrecked, junk, damaged, or accidental cars. Therefore, you can get instant cash for cars without any hassle or inconvenience.
We buy Toyota cars of all makes and models. Our car removal company certainly offers great prices for such reputed brands.
Mentioned below are the models we'd love to purchase.
Toyota Camry
Toyota Corolla
Toyota Prius
Toyota Tarago
Toyota Prius V
Toyota Prius C
Toyota Yaris
Toyota 86
Toyota Aurion
Toyota Fortuner
Toyota Klugner
Toyota Land Cruiser 200
Toyota Land Cruiser Prado
Toyota RAV4
Toyota Coaster
Toyota Hilace
Toyota Hilux
Toyota Land Cruiser 78
No matter which Toyota car you own, call us and sell it away in no time. We make the selling of your junk car super convenient. Mentioned below are a few things you need to do to sell a scrap car to us. Get top cash for cars in less than a day!
Sell My Toyota Cars
Call us and provide all the necessary details of the vehicle. Make sure to give the correct information. We offer a free quote considering the model, year, make and condition of the car. Giving out the correct details will also result in a higher quote. If you are satisfied with the offer, our car wreckers reach out to you within 24 hours. Hence, it all happens quickly and easily.
The car wrecker tow your car away in less than a day. Moreover, you get paid in cash on the spot. We instantly pay you a handsome amount of cash for a junk vehicle. Instead of shelling out money for selling expenses, reach out to us. We do not charge a penny for all the services that we provide. In fact, we also arrange the paperwork for our customers. This service is also free for anyone who wants to sell a junk car.
We also make sure that you do not face any trouble during or after the selling process. Our expert team of car wreckers ensures that everything is done quickly and in a hassle-free manner. Selling a junk car is the easiest task with us! If you want to sell your junk vehicle and get instant cash, pick up your phone today.
Our car removal company uses these junk vehicles for further reselling or recycling. Moreover, the recycling or remanufacturing process is performed in an eco-friendly manner. With the help of latest technology, it is possible for us to perform this process without harming the environment. So If you do not want to give up on your car yet, buy used or remanufactured auto parts at amazing prices.
Sell your car to us or buy used auto parts for any and every kind of vehicle!