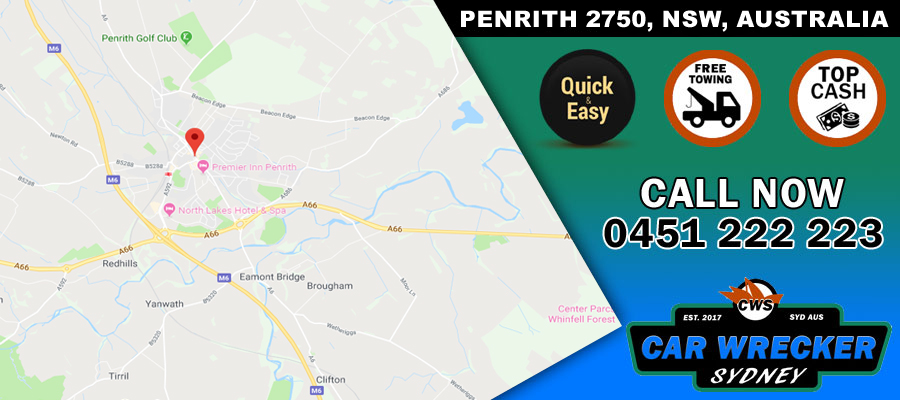 Don't waste time looking for a second-hand or scrap car buyer in Penrith, NSW. Sell your unused car for cash with one call to scrap auto wrecker Penrith. Ford, BMW, Honda, Subaru, Nissan, Jeep, Mitsubishi and more, we guarantee to buy it! No matter it's working or not, age and model. Get the best offer on your broken, flood-damaged, burned vehicle in any condition today.
We Remove Vehicles In Penrith and Charge Nothing
We buy all car brands, and models include Japanese, American, European, Korean, and Australian. If you are unable to accept your brand or model, our expert wrecking team members will help you out with that. We will pay you up to $13000 cash for cars on the spot in Penrith and nearest suburbs. We pick it up from your location free of charge within 24 hours.
Types Of Cars We Removed:
• Flood-Damaged or Broken Cars
• Accidental Cars
• Written-Off Cars
• Old & Used Cars, Running or Not
• Unregistered Vehicles
• Second-Hand Cars
• Roadworthy and older than 20 years model cars
Sell Your Vehicle To Penrith Auto Wrecker?
• Explain your vehicle condition.
• Accept offer straightaway
• We will come to your location.
• Get same day payment.
Why Choose Us?
We have a professional towing team in removing any cars, trucks, Utes and more. We have the best resources and expert drivers to remove your car free in Penrith and all nearest suburbs. Our free car removal service is quick, secure and hassle-free. Our wrecking team will come to pick up the car from your home and office location instantly. If you're looking to sell your good running car and expecting value more than $10k, we bring an instant quote for cars in Penrith with the relaible buyer in your local region.
Penrith Car Wrecker Deals In Second-Hand Parts
We provide low-cost and quality spare parts, service and mechanical components for big brands which include BMW, Daewoo, Ford, Holden, Honda, Hyundai, Jeep, Kai, Mazda, Mercedes, Mitsubishi, Nissan, Renault, Subaru, and Suzuki, Vans 4WDs.
Car spare parts that we sell or buy:
• Tailgates
• Trunk Lids
• Tail Lights
• Stop Bumpers
• A/C Containers
• Doors
• Radiators
• Fenders
• Headlights
• Bumpers
• Grilles
• Radiator Supports
• Header and Nose Panels
• Hoods
• Mirrors
Get Top Dollar Cash For Your Unwanted Car In Penrith!
If you are thinking about selling you unused scrap metals or broken car, come to unwanted car wrecker Penrith or call 0451 222 223.
Related Nearest Suburbs:
Car Wrecker Parramatta | Junk Car Wrecker Blacktown | Unwanted Car Buyer Campbelltown | Broken Honda Removals Colyton | Car Disposal Liverpool