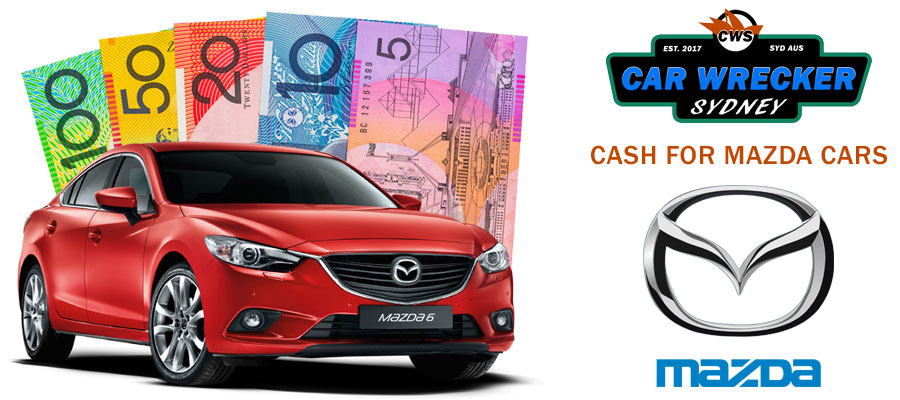 Cash for Mazda Car Wreckers
Do you own a Mazda car that is not in excellent condition? People tend to store their junk cars in the garage. They often abandon scrap cars out in the open as well. However, they fail to realise the harm it can cause to the environment. A junk vehicle emits certain fuels and gases which can disturb the environment. Therefore, getting rid of a junk vehicle is the best idea. Selling a junk car can be incredibly easy. However, finding the right way to get rid of a car is the trick.
Mazda Wreckers Sydney  & Mazda Spare Parts Sydney
If you want to get rid of a scrap vehicle, here is what you need to know. Our cash for Car Company offers the best services. We offer top money for junk vehicles. No matter which brand, model or make your own, we offer the best cash for it. Our expert car wreckers make sure that the entire selling process is natural for you. Besides that, we do not charge anything for all our services.
Hence if you're looking out to sell your Mazda car, we're the right choice for you.
Listed below are some Mazda cars that we would love to buy.
Mazda 323
Mazda Bravo
Mazda BT-50
Mazda CX-5
Mazda CX-7
Mazda2
Mazda3
Mazda6
Mazda Tribute
Mazda B series
Mazda Bongo
Mazda Capella
mazda 3 wreckers sydney
mazda 2 wreckers sydney
mazda 6 wreckers sydney
Mentioned above are some of the models that we accept. However, you can sell any Mazda car to us for a great cash. We are widely accessible and reputed car wreckers in Sydney. We realise the worth of any junk vehicle and offer the best.
The vehicle can be new, old, junk, accidental, wrecked or even burnt! We offer top cash to provide for all kinds of cars. In addition to the top money, we also provide free and quick services.
Instead of bearing expenses while personally selling junk cars, sell your vehicle in no time and without spending a penny.
Here is what you have to do to sell a Scrap car to us:
Call us: Give us a call and provide all the details of the vehicle. Make sure to mention all the minor information to get a higher quote. We give a free quote considering the year, brand, model and other aspects of the vehicle. One can also sell a junk vehicle online. Fill the form on our website, and we respond to you in less than a few hours.
Same day car removal: If you accept our quote, the car wreckers reach your doorstep within 24 hours. Yes, you get the same day car pickup. Moreover, none of the services is charged for. We give you a car towing service for free. Our team will also manage the paperwork for our customers. Hence you get all the benefits of our services, and nothing is substantial on the pocket.
Instant cash: If you're looking out for immediate payment, call us today! We do provide not only quick services but also pay instant money. There is no delay in clearing of the bill. Sell your car to us and get instant cash on the spot!
We buy junk, Scrap cars and further resell or recycle them. The recycling takes place in an eco-friendly manner. These used or remanufactured vehicles are thus sold to various car owners. They are not only excellent in quality but also come with a warranty. Moreover, by adopting environment-friendly techniques, we contribute our bit to the society.
If you want to sell a junk vehicle or buy used auto parts, we're just a call away! We offer you the best cash for any junk Cars Sydney.
How can you find reliable car buyers near you in Sydney- Visit Cars Buyers Sydney