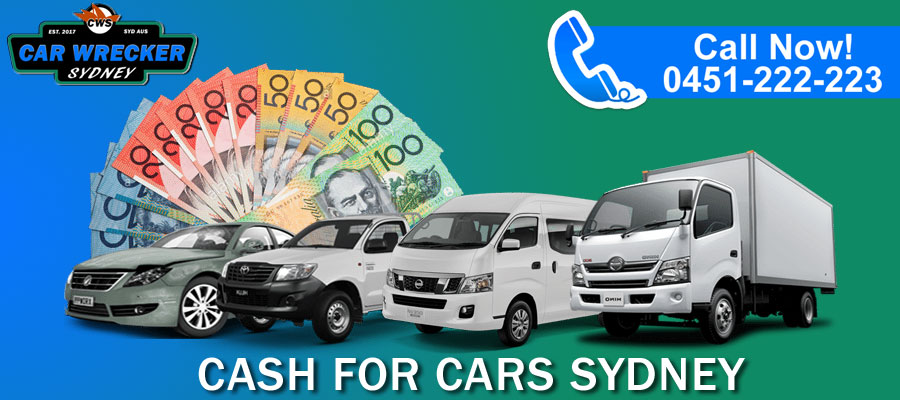 How to Get Cash for Cars in Sydney?
Cash For Cars in Sydney provides top dollar cash for unwanted vehicles. Dumping a junk car in the garage is not the best idea. Most people also tend to abandon their cars out in the open. However, they do not realize the consequences. A junk car can cause severe damage to the environment. It emits fuels and gases that can be hazardous. Instead of contributing to the degradation of the environment, sell your car to Cash for cars Sydney.
People adopt several methods of selling a scrap vehicle. However, choosing the best one is the key. One can sell an unwanted vehicle by personally looking for buyers. You can find potential local buyers. It takes a little investment in both time and effort. Getting some minor repairs and washes on the car is important before selling it. Moreover, advertising expenses can get heavy on the pocket.
Therefore, Sydney Wreckers bring the perfect solution to our customers. Our car wrecking company offers the best cash for junk cars. We have a well-reputed salvage yard with a team of professional workers. We realize the worth of a junk vehicle and offer the best. We have bought thousands of Cars for cash Sydney.
What Kind Of Cars Do We Buy?
We accept any and every kind of junk vehicle. It can be old, new, wrecked, damaged, or accidental. You name it and we are willing to buy it! Our prices are extremely fair and competitive. We have been in the automobile business for a long time. Hence, we know the exact worth of any scrap vehicle.
Our customers can come to us to sell any vehicle. It can be a truck, car, Ute, 4×4, or whatever they own! From a well-maintained vehicle to an absolute wreck, we buy all kinds of cars. All you need to do is call us, and we'll take care of everything else.
We offer the following services: 
Cash For Cars Sydney
Car Removal Sydney
Sell Your Vehicle To Wreckers
Salvage Yard Sydney
Cash For Trucks Sydney
Sell My Car Sydney
Cash For Junk Car
Cash For Scrap Cars
How to Get Cash for Cars Sydney?
Our wrecker's yard is the best in Sydney. We make it very convenient for our customers to sell their cars and get top cash for scrap cars Sydney. Moreover, all this happens in less than a day. You can get rid of an unwanted vehicle within same day. Here is what you have to do to sell a scrap vehicle:
Call us

Our helplines are available for 7 days a week. Do not think twice before calling us for a free quote. Give us a call and provide all the information about the vehicle. We give a free quote considering the make, model, brand, condition, and year of the car. Do not miss out on any details. A precise description will help us give the seller a higher quote. Also, you can sell a damaged vehicle online. Fill out a form on our website and give us the details of the vehicle. Our team responds in less than a few hours.

Same day car towing

If you are happy with the quote, our team reaches at your doorstep within 24 hours. We have a team of experienced car dismantlers. They take less than a day to reach out to our customers. They tow the vehicle away before you even know it! We make sure that we do not cause any kind of inconvenience. It is a hassle-free process and takes less than a day. We make the selling process quick and chaos free. Therefore, we provide the best junkyard services.

Cash on the spot

We often think about the price that we can get for our vehicles. However, payment delay remains a question. With us, there will be no payment delays. As soon as we tow the vehicle, our team pays in cash on the spot. You get instant cash within 24 hours of the phone call. Instead of letting junk cars uselessly sit in the garage, make the most out of it. Sell it away and get instant cash in less than a day.
How Much Does It Cost?
If you're wondering what to pay for the services, all this amounts to nothing. Yes, we provide 100% free services to all our customers. We do not charge a penny for any of the services. Our towing service is absolutely free of cost. In addition to that, we walk an extra mile to make it the best customer experience for you. In fact, we also manage the legal requirements for the seller. Our team arranges the paperwork beforehand. Hence you do not have to worry before selling a damaged vehicle to us. We make it the most convenient business for our customers.
Best Used Auto Parts in Sydney
If you are not willing to give up on the car yet, we have another solution for you. We buy all makes, models, and brands of junk cars. Some of these cars are used for reselling. However, some cars are not in a condition for further sales. Since we are the perfect dismantlers, we fix it all for you. We recycle the auto parts to make them ready for a resale.
The recycling or remanufacturing process happens in an eco-friendly manner. With the help of latest technology, we remanufacture the auto parts for further sales. These used or remanufactured auto parts are great in quality. In addition to the quality, they also come with a warranty.
If you wish to run your car on roads for a shorter duration, used auto parts are a perfect pick. However, for a longer duration, we would suggest remanufactured parts. They are as good as new parts and are way cheaper.
Therefore, we have a solution for all your vehicle-related issues. If you are looking for automobile wreck yards, we are just a call away. We not only offer fair prices but also provide free services. We make selling of a junk car the easiest task for our customers. All it takes is a phone call, and we deal with the rest. We accept all kinds of junk cars, trucks, and other vehicles. If you want to sell a dead vehicle and get instant cash, call us today!