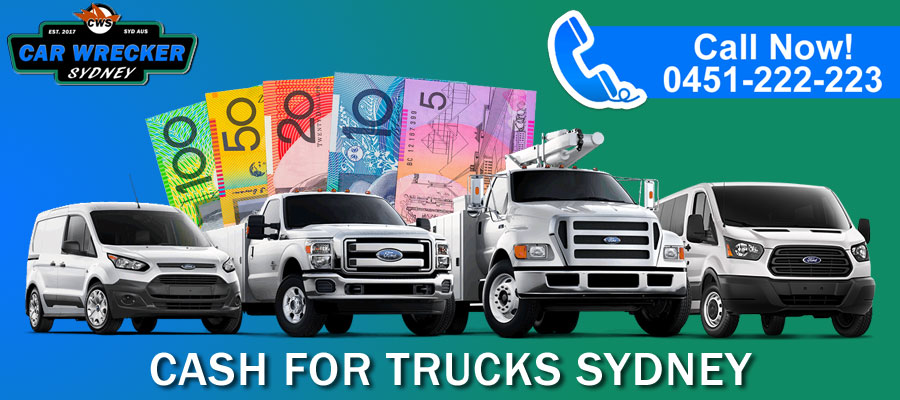 Sell Your Trucks for Cash in Sydney
Cash For Trucks Sydney is proud enough to declare that we pay top cash for junk trucks. Well, who would pay cash for damaged trucks? You can even have a look at the various feedback provided by our clients. The amazing positive reviews boost us a lot with our work. Give us a chance to serve you with our dedicated Wrecking services. So, now what are you waiting more for? Simply, give us a call or drop an email. At the same time, our people will connect with you as soon as possible.
Cash For Trucks Sydney
Do you want to have Cash for Trucks Sydney? Well, are you still giving any space or corner to an obsolete item? It is the correct time to have the cash for trucks. It is a quite amazing deal. We will provide cash for unwanted vehicles. Do not worry about your vehicle running condition? It may be running or simply worthless, it does not bother us. Also, the condition of the vehicle is never an issue for us. We simply get in touch with that person who buys used trucks for cash.
Sell My Truck Sydney
Do you want help to Sell My Truck Sydney? You simply need to visit our website. On the homepage, you will be provided forms. Fill in all the data. This one is very helpful for us. We are able to frame an opinion for your vehicle. We will provide you with a rough sketch of the estimated price. There are many other companies who provide cash for trucks online quote. So they simply offer good offers simply to lure the customers. On the deal date, they point out various loophole of the vehicle.  Also, we do not make use of any fraudulent approach. You can simply come to us to sell My Truck in Sydney.
Truck Buyer Sydney
A number of Truck Buyer Sydney comes to take the truck in a private manner. We work to get it in the safe hands. Sydney Truck Wrecker simply values your asset. So we buy trucks for cash and make sure that it is handled safely.  Even we make money by selling junk trucks for cash. First of all, we look for buyers. Also selling the truck, if it is in a running condition, helps us to fetch money instantly. The earnings are at the same time, made from its metallic value. Moreover, even the recycling procedure is regarded to be very beneficial.
Truck Wreckers Sydney
In some of the situation, you would wish to get a good Truck Wreckers Sydney. Basically, when you have an occasion at home and an unworthy element is destroying the beauty of space. We need only twenty-four hour of the day to complete the working procedures. So you do not need to worry about anything. We will work on the various documents. At the same time, we bear the entire towing cost of the vehicle.  The time you have handed your possession, your entire problem is ours. Our professionals have designed the work in such a manner that you do not have to worry about anything. At the same time, legal work is done without disturbing the customers.
Truck Removals Sydney
Finally, Do you wish to have an instant Truck Removals Sydney service? Your search will end here. We provide you fast cash for trucks. So this is something really unique in us. However, we provide you with Cash for Trucks Sydney before you hand over your keys to us. Eventually, if you want to have the amount in your bank accounts, we will wait. Until the entire amount is credited; our executives will not leave your place.