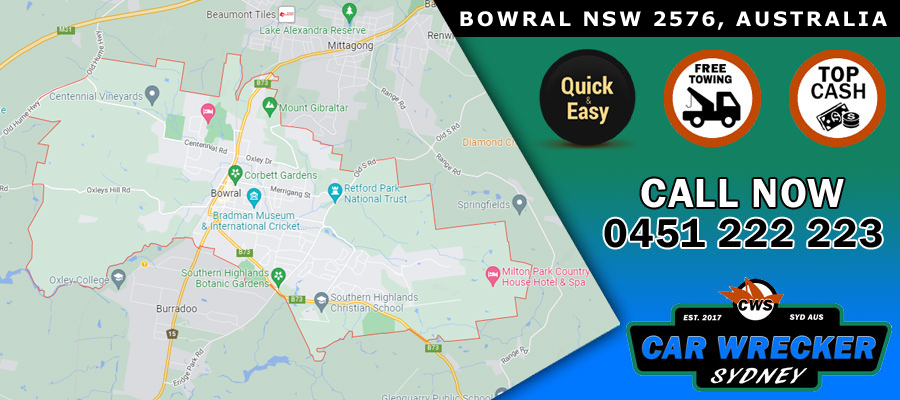 Why Car Wreckers Bowral is a perfect choice for selling your old cars
Do you have an old wrecked car that you are planning to sell for quick cash in Bowral? Do you want to make top cash out of your old cars? Well, then you are at the right place where you can get a good deal on your old cars. We at car wreckers Bowral offer you the best prices so that you can always look up to us for selling your old cars. We fledge our customers with eco-friendly car wrecking services at attractive dollars so that our customers return to us with a smile. By reaching out to us, you can sell your cars at a fast pace and without any hassles and free car removal Bowral. Call at0451 222 223
Car Removal Bowral & Cash For Cars Removal Bowral
If you're in Bowral and looking for reliable car removal and disposal services, look no further! At our esteemed facility, we offer hassle-free car removal Bowral, ensuring a seamless and efficient process. Whether you have an old, damaged, or unwanted vehicle taking up space, we can help you get rid of it responsibly and in an environmentally friendly manner. Our team of professionals will handle all the paperwork and logistics, making the car disposal process a breeze for you. Trust us to provide top-notch service, and bid farewell to your old vehicle without any worries. Contact us today to schedule your car removal in Bowral and experience a stress-free solution for your unwanted automobile.
Why choose car wreckers Bowral?
While you hit the market, you may come across different car wreckers, but choosing us to sell your wrecked cars has its own benefits. Want to know why we are the best and can promise you a customer-oriented experience? Here is why you should consider choosing us:
We offer just in time services without making our customers wait for long,
We are authentic and licensed car wreckers, and you can always bank on us to sell your wrecked cars for cash.
We offer you top cash dollars for your wrecked cars in any condition.
We accept your cars in vehicles in any condition.
We have experienced staff who can cater to all your car disposal requirements with finesse.
We accept cars of all brands and models. Also, we do not mind their condition and accept all sorts of cars, trucks, etc.
We offer free towing of your vehicles from your location.
We offer car collection services throughout Bowral.
We also buy used auto parts.
We give you free quotes for your old cars, and if you agree to the same, we are just a call away from reaching out to your residence to evaluate your used cars.
Get Instant Cash For Cars Bowral Up To $ 9,999
If you're looking to turn your unwanted car into instant cash in Bowral, you're in luck! At our reputable service, we offer top-dollar cash for cars Bowral, regardless of their make, model, or condition. Say goodbye to the hassle of private sales or time-consuming negotiations, as our straightforward process ensures you get the best value for your vehicle without any fuss. Our team of experienced professionals will handle all the paperwork and towing, making the entire transaction quick, convenient, and stress-free. Don't let that old car gather dust in your driveway any longer; get cash for cars in Bowral today by contacting us and transforming your vehicle into money in your pocket.
We buy all types of vehicles in Bowral
We value all types of vehicles, and thus your car model and brand do not make any difference to us. We buy all kinds of cars, and therefore the condition, brand, type, etc., does not affect our purchase decision. Also, the age of your vehicles is not an issue for us; may it be 15 years old, 20 years old, or a car that is about to turn into junk, we are interested in purchasing all sorts of cars.
Top Car removal services in Bowral
Have you been hitting the internet to search for the best Sydney car wreckers for a long time? Have you still not come across a car wrecker company that can offer you top cash for your used cars? Your search ends here! We at car wreckers Bowral offer you money at your doorsteps without letting you take the slightest pain of selling an old wrecked car. Ranging from the documentation process to towing your used cars, we shoulder all the responsibilities of getting you rid of your old cars for cash Bowral  that goes beyond your expectation.
We excel in dismantling, wrecking, and recycling your wrecked cars and also help you get rid of your old cars and salvage parts hand to hand, offering you top dollars. So, are you interested in selling your wrecked cars? Call us now and get ready to sell your cars in a hassle-free process!