The vehicle can be sold without certification. Your best solution in such a situation is to sell your old car for cash to a Car Wrecker Sydney. A certificate of Roadworthiness (RWC) shows that your vehicle is safe for use on public roads. If your car fails the roadworthy inspection, it's likely that it's in pretty bad condition and will need hundreds to thousands of dollars for repairs to bring it up to authorized safe standards. You don't need a roadworthy certificate to sell your old car for cash.
Are You Planning To Sell Your Non-Roadworthy Car To Car Wrecker Sydney?
Don't put your life and the lives of your passengers and other motorists on the road at risk by driving an unsafe car. It is against the law to drive a vehicle that NSW roads haven't approved. So, if your vehicle doesn't pass the roadworthiness inspection, then your options are limited. You cannot sell the car until you've made the required changes to make it roadworthy again and get it approved by NSW Roads. And that can be a costly method depending on the state of the vehicle. But what if we told you there's a better alternative?
If your car's been deemed unroadworthy, then your best option is to sell it to Cash For Cars Sydney. Unlike selling to a single buyer, you don't need to make the car roadworthy again to sell it to a wrecker. This is because the car will be sold for its scrap metals, meaning it will be wrecked and recycled, so making it roadworthy is not necessary for such an instance. Car wrecker sydney company buys old, unwanted, damaged, and scrap cars. Give us a call today, and we'll buy your unroadworthy vehicle instantly!
Get FREE Car Towing When You Sell Your No ROADWORTHY VEHICLE (RWC)
We offer Free Car Towing for all suburbs in Sydney. Driving an unroadworthy vehicle can cop you $5999. Why take the risk of driving the car over to our yard? Please take advantage of our Free Towing service instead and book your free car removal today. We'll send our tow truck to collect and tow the vehicle over to our site.
Contact Car Wrecker Sydney For Free Estimate Over The Phone Or Online
Ready to say goodbye to your scrap car forever? Call 0451 222 223 Car Wrecker Sydney today, and we'll provide you an instant free quote. We buy all makes from Toyota, Hyundai, Honda, Kia, Suzuki, Jeep to Volkswagen, Audi, Nissan, Holden, Mazda, and Renault.
An Easy Way To Sell Your Car In Sydney For Cash Without Expense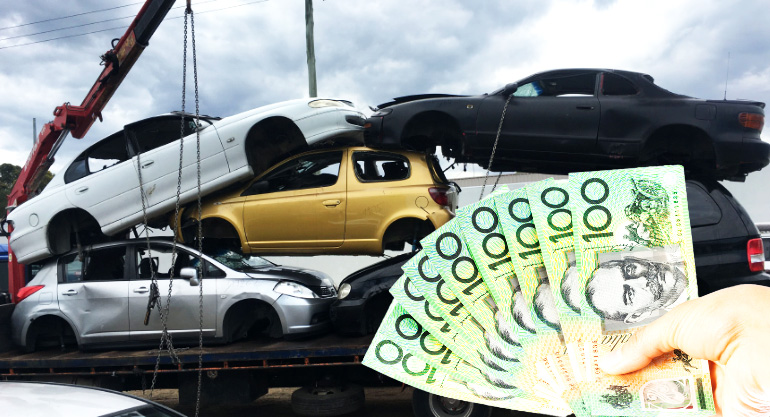 People tend to think that selling an old and used car needs time and money. However, there is a more accessible alternative. It must look genuine because no one will buy a car in shoddy condition. Apart from removing stains and dents, money is spent on advertising as well as repairs. Then comes bargaining for the right price. That is selling your car to wreckers.
For more information relating to Where is sydney's best car scrap yard? Keep Reading as We have got the ultimate solution to this problem…
Car Wrecker Sydney is a leading and reliable scrap old car wrecker in Sydney with vast knowledge and fair deals. If you want to Sell Your Car to Wreckers, call them at 0451 222 223.
Same Day Removal When Your Sell Your Unwanted Or Used Cars To Wrecker
This is because car wreckers like car wrecker sydney don't discriminate based on the make, model, design, and extent of the damage to the car. They accept cars in all conditions because they have an eye for spare parts and scrap metal. There is no headache to repair or present the car in good condition.
Since they crush and wreck the entire vehicle, it has excellent value for the company, and they earn quite a lot from this. A good and professional company will share a part of their profit in terms of a handsome cash payment.
What Is the Procedure to Dispose of Your Car for Cash with a Wrecker?
The ideal way to begin the car removal process is by looking up companies online and reading their reviews. Find a reputable Car Wrecker who offers quick and efficient service along with top cash offers. When you're done with that, ask for the additional services and their expenses.
Zero in on those companies willing to offer free tow-truck service to tow away your car from a preferred location. It is crucial to choose a car removal company that is licensed and insured so that the transaction is safe, secure, and legal. They must also arrange for all the paperwork free of cost.
Additionally, the payment procedure must be transparent and quick. Car wrecker sydney makes instant payments via cheques or EFTs. We make the payment at the time of the car removal on the same day. So, there are no delays, and you don't have to wait around hoping to get paid.
Car wrecker sydney offers free quotes, towing service, zero-fee paperwork, and instant cash payments. If you want to Sell a Car For Cash, call 0451 222 223. We are the most trusted Car Wrecker Sydney company in your area.